About
Vision
Our vision for Acorn Host is to be a small cog in a giant wheel of good.
There are thousands of small and micro-businesses that are taking a stand for doing business in a conscious, earth-friendly and human-friendly way. We are part of a movement that is much bigger than us.
Our close-to-home goal is to do our part and do it well. Our larger goal is to be part of the vanguard of a new era of business: where business serves people's health, happiness, and well-being, rather than profits or short-term success at the expense of long-term sustainability. We believe in people and their ability to choose a better path.
Purpose
The purpose of Acorn Host is to support and enrich life by being an asset to the local and global community. Our goals are:
To provide excellent web hosting
To provide exceptional customer care
To support non-profits and causes working for good
To grow sustainably, putting quality before profit
To be an example of conscious business leadership
Our primary customer base is small businesses, individuals, and non-profits.
We are green powered and offer non-profit web hosting at an entry-level price point. Our criteria for the plan are based on the mission of the organization and their need, rather than on government paperwork.
We are incredibly proud to host some amazing organizations doing profound work to help the world. Please visit our customer directory to see for yourself.
Meet the Owner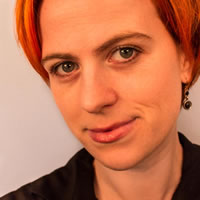 Acorn Host was started by Emma McCreary in 2002 to provide her design clients with a reliable place to host their sites. It has since grown to serve the larger community and is home to many small business and non-profit websites.
She is a native Oregonian and considers it an honor to have been named after the irrepressible Emma Goldman.